Classroom Physical Activity Video Series
This e-Learning course was designed in collaboration with the University of Nebraska Omaha's School of Health and Kinesiology with funding from CHI Health. This information is intended for classroom teachers, after school providers, and other youth-serving organizations looking to increase classroom physical activity. While this information will always be applicable, special consideration was paid to current COVID-19 restrictions, including how to include physical activity in a virtual classroom setting. 
How to use this course:
Move through the modules at your own pace. We suggest watching each of the module videos, and then watching the supplementary videos and/or browsing the supplementary resources provided in each module as they fit your needs. Once you have finished the course, we ask that you please take the post-survey linked at the end. 
We recommend you take this course via a computer, as videos may not play on a phone.
---
Module 1: The Importance of Physical Activity
Resource: CDC Physical Activity Facts
This webpage goes over the benefits of PA, the consequences of being inactive, and the PA behaviors of young people.

 
---
Module 2: 

Classroom Setup and Design
Supplementary Video
Walking Path
Resource: Let's Move West Virginia
Let's Move! WV is dedicated to solving the challenge of childhood obesity within a generation so that children born today will grow up healthy and able to pursue their dreams. Combining comprehensive strategies with common sense, Let's Move! WV is about putting children on the path to a healthy future.

 
Resource: Action for Healthy Kids – Get Up and Get Groovin'
This document contains a physical activity tracker 

for

 the classroom.

 
---
Module 3: 

Behavior Management Planning
Supplementary Video:
---
Module 4: Active Brain Breaks vs. Active Learning
Supplementary Videos:
A Full Day of Movement
Body Clocks
Exercise Bingo

Resource: Play60 In-Class Physical Activity Breaks
This document gives examples of PA breaks and ways to add them into the school day.

 
Resource: Video Examples
This resource includes links to many different examples 

appropriate

 for different grade levels. 
Resources: Bingo PDFs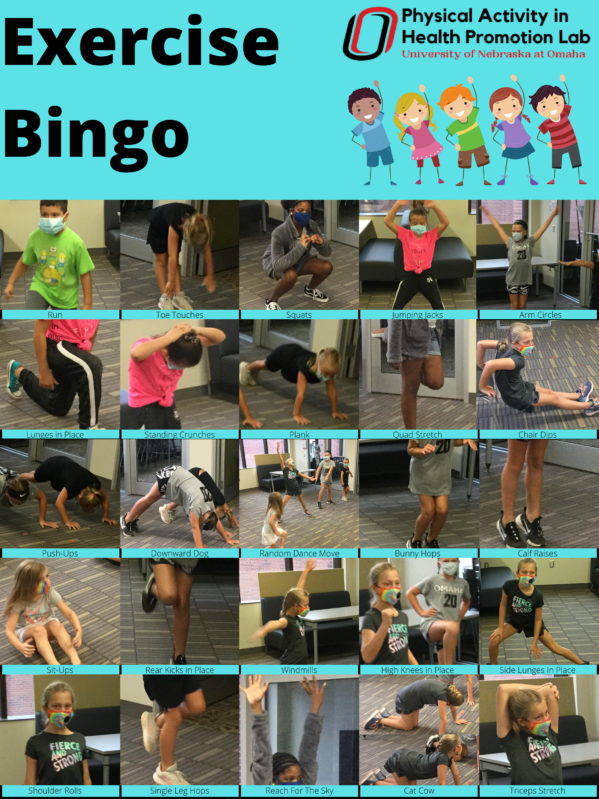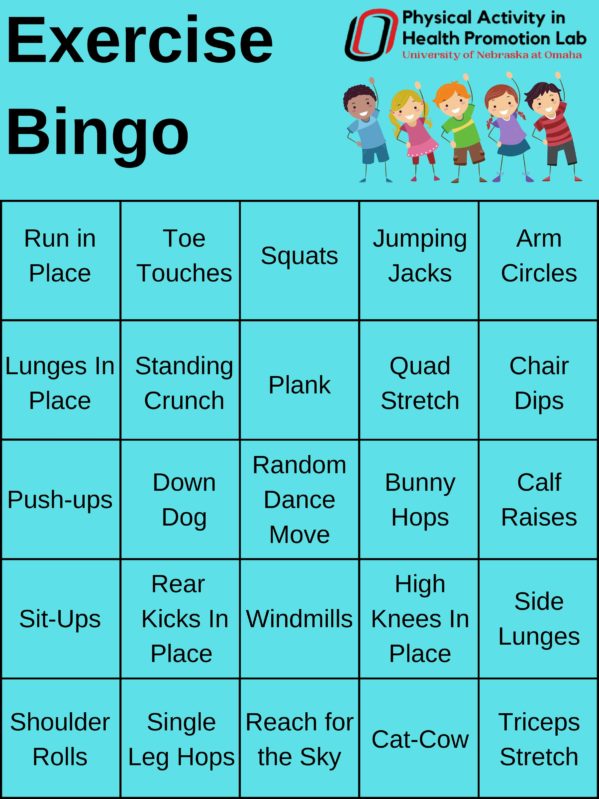 ---
Module 5: Additional Ways to be Physically Active
Resource: Nebraska Marathon Kids
Nebraska Extension is offering a virtual Marathon Kids club, so youth and their families across Nebraska can be active and gain confidence through completing the distance of a marathon, one mile at a time!

 
Resource: Strategies for Active Indoor Recess
This webpage highlights rules and strategies for indoor recess

 
Resource: Integrate Classroom Physical Activity
This webpage goes over the benefits of PA, the PA behaviors of young people, and strategies for implementing PA into the school day.

 
---
Module 6: Be the Physical Activity Advocate at Your School
Resource: CDC's Increasing Physical Activity Guide
This document goes over the Components of the Comprehensive School Physical Activity Program 

Framework and

 offers a variety of resources related to this.

 
Resource: Data Brief: Keep Recess in Schools
This data brief provides partners in both the education and public health field with national data that describes the state of recess in schools in the United States, and identifies key policies and practices that school districts and schools can put in place in order to promote and implement recess.

 
---
Module 7: Virtual Classroom Physical Activity
Resource: Ship, Shore, Deck
This article explains the ship, shore, deck game.
Resource: Zoom Simon Says
This article explains how to play Simon says over Zoom.

 
---
Feedback
Please complete this 5-minute survey after you have viewed the classroom physical activity video series. You do not need to have viewed all videos before completing the survey. This survey is for evaluation purposes and it completely voluntary. 
Additional resources and links to the studies referenced throughout the course can be found here.
---
For more about encouraging your students to make healthy choices using the 5-4-3-2-1 Go!® program, visit GoNebraskaKids.org For support in implementing the program at you school or youth-serving program, contact The Wellbeing Partners at YouthWellness@TheWellbeingPartners.org.  
Special thanks to Dr. Danae Dinkel, JP Rech, The University of Nebraska at Omaha, CHI Health, and our classroom student actors for their help with this project.